Winter Can Be a Blessing Rather Than Depressing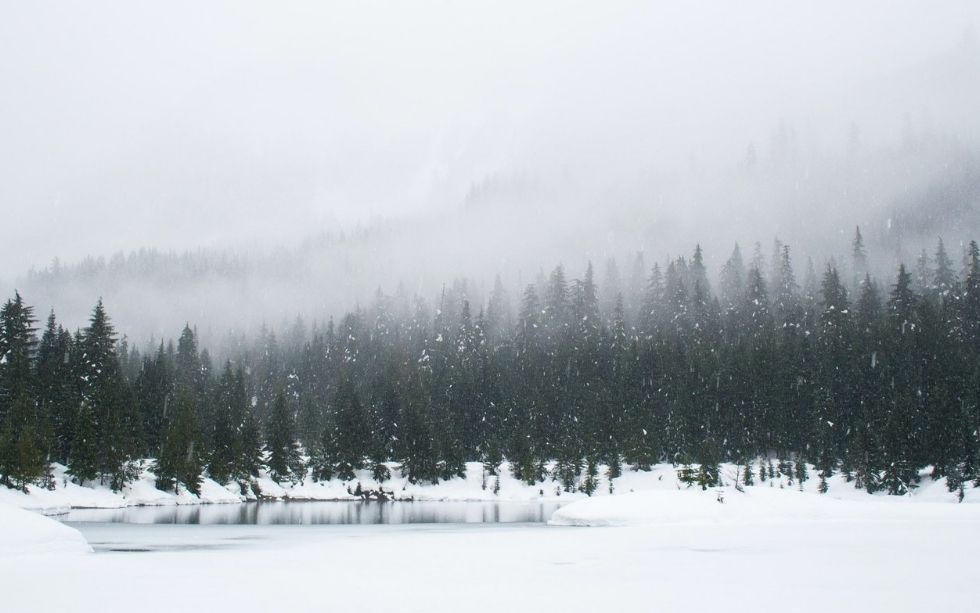 Every year when I get ready for Christmas the one thing I want to see is snow. I don't like a green Christmas because it reminds me of spring and summer so I pray and ask God to send snow. On most occasions, God hears my prayers and I get my white Christmas. But after all the excitement of Christmas and New Year's Day I have to face reality- entering into a long-dreaded time of cold, wet, and at times, a very depressing season of winter.
The worst is February. Forget about the fact that February 14th is Valentine's Day and that should spark some excitement. If you are single and you don't get chocolates or flowers from an admirer or maybe your relationship with your loved one is not going well – that just leaves temperatures like -22 Celsius (-7 Fahrenheit) and questions like why do I live in a country that has four seasons? Can anything good come from a cold, long, dreaded, wet, and gray season? The answer is yes!
I have learned that instead of being distracted by the bitterness of winter why not embrace the sudden but heartwarming blessings of it? What blessings am I talking about? Well… let me tell you.
Choose to focus on what you CAN do and not want you can't do. During the winter we can easily become overwhelmed with frigid ice and snow storms which are beyond our control. We also have to deal with ongoing flu and colds. The heaviness of winter sets in and during this time life might not seem fair. But don't stop there. In the Old Testament, Joseph was put in prison even though he was innocent, and yet he made the best of an unfair opportunity. He still gave his best while in prison and let God use him to help interpret the dreams of a cupbearer and baker. We can too. What might that look like for you? What can you do this season? Maybe it's exercising, writing a book, working on a song or your website, or just simply deepening in your walk with God. Rather than spending good energy on what you can't do, work on what you can do. What is God asking you to do in this season?
Be thankful for unexpected opportunities. In 1 Thessalonians 5: 18, it says, "give thanks in all circumstances." This verse can be hard to swallow because truthfully how we can be thankful for something when we are in the middle of a harsh, cold, and long winter? We can. I remember last year in early Jan 2021, I had the opportunity to teach a class to eight students. It was a great opportunity even though we were in the COVID lockdown. It gave me something productive to do. When the last day of teaching was approaching, I was sad because I didn't want it to end! But I was so grateful for the opportunity to put my skills to work and learn something new. Just because life is not the way we would like it to be, what opportunity can you be thankful for right now?
Remember, the grass is not greener on the other side. One winter, I was going to be away in California for a couple of days and I was so excited to leave the country for sunshine, beaches, and palm trees. But here's the thing, while I was on the plane we were delayed. They had to de-ice the plane. I didn't even know something like this existed. It delayed my time for a good hour and changed my plans. In my mind, I set myself up for failure because I was going away from this cold weather, it was going to be better, but instead, I had to face a new obstacle. We too think the same thing about life. We think, when we get married, have a child, have a great job, receive healing, or when we are out of debt-when life is perfect-then life will be great! But that thinking is a lie.
It's Satan's plan to make us ungrateful for what is in front of us. Whether life is going the way we like or not, let us be like Paul and learn to be content. Paul says "I have learned to be content whatever the circumstances" (Philippians 4: 11). How do you need to look at your situation differently?
Don't Miss God. Like I said I dread the month of February, but time, God's grace, my experience, and my walk with God are teaching me not to shun these moments but rather embrace them. Because in it God is present and he is there, whether I feel like it or not. Last year during this cold winter season, a person I knew was in the hospital and was on their death bed. The family informed many people of the dire situation and people prayed. I remember sitting in a zoom prayer time with over 100 people praying for this person to wake up from their sleep. After one week and a few days, this person woke up from their coma and now they are alive. I was reminded in that dark season, that God is alive and he is still working. I was able to sit in a call with people praying fervently for God to rescue someone from a deadly situation. And I don't know about you but this resurrected situation reminded me that I don't want to miss God and what he is doing. I want to fully embrace all of it and all of HIM.
The winter season does not have to be a write-off, but rather it can be a time where God is writing and completing our story. If we truly believe that God is in control and he is doing everything according to his will and purpose then we will see our situations differently.
Don't be distracted by the downside of winter but instead focus on the blessings before us. When we do, we will no longer think about the dreaded, cold, and wet winter we are in but our hearts will be warmed by the blessings God is doing right now in our midst.